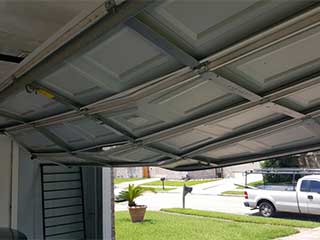 With our regularly scheduled garage door maintenance program, your garage door will have a long life expectancy and remain in good condition for many years to come. But just like regularly washing your car is important to keep it clean and in good condition, your garage door also needs to be looked after too.
When cleaning a painted metal door, use a wet sponge and not a brush to remove loose deposits. Then wash with a mild detergent in clean warm water to remove dirt, dust and other pollutants. For a wooden door, wipe the outside carefully with a dry, soft cloth, and then inspect the door for any damaged areas and repaint or use stain when required.
Leave the inside to us
On the inside is where we come in. Remember that your door is under tremendous tension and only an experienced and trained technician should make even the slightest adjustments. Garage doors can easily become unbalanced causing excessive wear and tear, not to mention that they can be extremely dangerous to handle. We are the professionals at making sure your door works like it is designed to do, so give us a call at Garage Door Repair Alvin today. Let our experienced service technicians take care of maintaining the delicate but dangerous mechanisms inside your door so you can enjoy it for many years to come.
But wait, there's more! We also offer:
Garage Door Safety Inspections
Opener Sensor Repair & Replacement
Extension Spring Adjustment
Broken Garage Door Track Repair