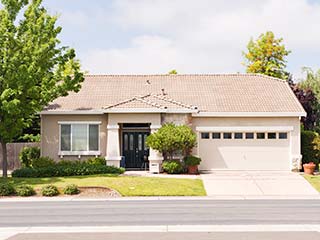 When problems hit you unexpectedly, you want solutions applied as soon as possible. With local garage door repair services near Alvin provided every day, weekends included, you can get these quick fixes at a moment's notice. Got a problem with a garage door off track or a broken spring keeping you from using the system properly? One quick phone call can solve any issue you encounter.
Got a Garage Door Cable Off The Drum
If the panels move and suddenly seem to get stuck and make a grinding noise, you can check to see if one of the garage door cables got snagged on something. When a cable gets off the drum, the main pulley system of the door no longer functions correctly. This can cause the cable to break and will put extra strain on the garage door spring. Be sure to have cable off the drum scenarios addressed quickly to prevent serious damage.
Replace Garage Door Springs Quickly
The main strength of the mechanism comes from the spring on your garage door. This device provides the tension needed to lift the panels. Of course, if the garage door spring breaks, the whole lifting mechanism is compromised. The opener powers the process, but is not meant to support it alone. For quick broken garage door spring replacement near Alvin, you've got our experienced repairmen to call on. We offer customers same-day broken spring repairs every day, ensuring customers get quick solutions at all times. You don't want to have to work with a garage door with a broken spring. That's why our technicians bring with them springs of varying dimensions to replace the broken unit right away.
Opener Repairs, Replacement, and Troubleshooting
The power that moves your automatic garage door comes from the opener. This motor also houses the main control system, stored in the logic board. Naturally, some problems can occur over time, especially with frequent use. Garage door opener repairs and troubleshooting are sometimes complex, especially when the cause of the problem isn't clear right away. After a long enough time, you'll need the garage door opener replaced. It's important to find a model that works for your budget and needs, so your system functions optimally at all times. Should you need garage door opener repair or replacement in Alvin or in nearby areas, our technicians are always up to the task. Remember that LiftMaster opener troubleshooting, much like fixing problems with Chamberlain and Genie models, can be complicated by different issues. That's why getting help from the nearest repairman can save you a lot of time.
Have Alvin Garage Doors Repaired Today!
Nobody wants to wait for solutions a second longer than necessary. With fast emergency garage door repair services, you're guaranteed a fast response on any given day as well as on weekends. Garage Door Repair Alvin offers the nearest and cheapest service solutions in the area. We replace broken springs, troubleshoot and fix openers, and replace different garage door parts too. Got an urgent service need? Find assistance right away by calling our local team!